About us
You love the outdoors, adventure, wide open spaces?
You want to discover the Charlevoix region?
Discover
Discover Katabatik - Aventure dans Charlevoix !
We are Multi-Activity Open Air outfitters with two things in mind: discovering and sharing.

Our activities and packages extend over the vast Charlevoix territory. We believe that every discovery area is unique and offers must see points of interest for the practice of eco-touristic activities. Charlevoix is our land of adventure and we will help you discover it.
Allying authenticity and sports experience, we are mainly active in the following fields:
Sea kayaking on the St Lawrence
Kayaking down Rivière du Gouffre
Canyoning in the Charlevoix cascades
Stand Up Paddle rental
Bike rental
---
We put our skills and knowledge at your disposal by adapting them to your expectations and offering you a number of different activities.
Due to the variety of possible activities, we invite you to check out our packages as well as our different operating sites to make the best possible holiday choice.
Mission and vision
Our Mission

To create a growing interest for outdoor activities in Charlevoix through the safe practise of a vast range of adventure activities focused on ecotourism and the interpretation of our surroundings.
Our Vision
To become a leader in Québec's adventure tourism field by striving to make Charlevoix an internationally renowned outdoors destination.
Activities
Kayaking on the St Lawrence
Excursions - Scenery and wildlife observation
Expeditions -Multi-Day kayak camping
Winter kayaking
Kayaking down Rivière du Gouffre
Recreational kayaking for all : 8, 20 and 25 km courses
Stand Up Paddle rental
Bike rental in La Malbaie and Baie-Saint-Paull
Canyoning in the Charlevoix cascades
Activity sites
The Charlevoix coastline and the Middle St Lawrence Estuary
Saguenay-St. Lawrence Marine Park
Charlevoix World Biosphere Reserve
Hautes-Gorges-de-la-Rivière-Malbaie National Park
Gouffre river in Baie-Saint-Paul
Highlights
Interpretation of the maritime environment both in French and in English
Safe, professional supervision
Bird and marine mammal observation
Team Building and Corporate activities for groups of up to 100
Specialists of Québec winter kayaking
Ethic
Environmental responsibility

Our mission is completely oriented towards sustainable development
---
We have a fleet of 115 human-powered boats and 10 bicycles to explore Charlevoix's wilderness and coast in ''Leave-no-trace'' mode.
We built a third of our fleet using wood, a material that allows us to service and restore the boats on a regular basis
We use biodegradable products to clean our equipment each day
We use safe shuttles to transport customers to their starting points
We generate stimulating and structured employment for 15 of the region's people trained in eco and adventure tourism
We provide nautical and tourist expertise to Regional and Provincial committees
Social responsibility
Katabatik is a member of:
Charlevoix World Biosphere Reserve
Tourism Charlevoix
Paddle Canada
Fédération québécoise du canot et du kayak
Associative responsibility
Aventure Écotourisme Québec :
We are a member of Aventure Écotourisme Québec since we first opened in 2001. This guarantees that we work according to sector-based safety standards, that we hire certified guides, maintain industry-determined supervision ratios and hold civil liability insurance covering our activities.
Team
A team of passionate and professional people.

Our values: autonomy, acceptance, belonging and commitment.
---
Katabatik - Aventure dans Charlevoix is proud of its dynamic, dedicated and motivated team.
Our guides love to share their knowledge with our guests. They are trained in the interpretation of the Charlevoix environment, especially the maritime sector.
To insure safe supervision, they are proficient in the fields of meteorology, first aid, leadership and risk management and, of course, paddling techniques and rescue.
---
Sébastien Savard, manager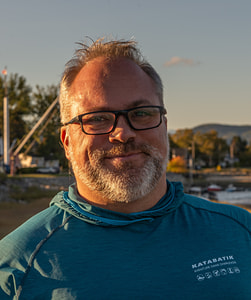 A Charlevoix native, Sebastien Savard is also kayakist, and philosopher in his spare time. For some twenty years, he has been proactive in developing specialized outdoors services, establishing relations between tourism stakeholders and making Charlevoix stand out as a Québec outdoors destination.
His main fields of interest are the social responsibilities of business, the sustainable development of Québec tourism, maritime safety, the development of outdoor activities, access to the St. Lawrence, the territories' environmental issues and the manner in which they are used.
---
Operations Coordinator
Caroline Sylvie Desrochers
---
Reception and Customer Service
Lucille Morin
Joëlle Bastien-Monat
Marilou Ayotte
Daphnée Richer
---
Guides and Bus Drivers
Laurent Bilodeau
Geoffrey Deniault
Marguerite Bériault
David Grenier
Charles Michaud
Danyan Cantin
History
Since 2000, in constant progress !
A glimpse of events since the year 2000.
2000

Exploration excursions, technical training and building wood kayaks.

2001

Official opening, 1st season: 2 guides, 8 kayaks, ½ day excursions from Cap-à-l'Aigle and Saint-Irénée. Building wood kayaks.

2002

½ day excursions from Cap-à-l'Aigle, Saint-Irénée and Baie-des-Rochers.

2003

½ day and 1 day excursions, expeditions, packages and regional partnerships. Building wood kayaks.

2004

6 guides, 32 kayaks, daily excursions from May to October, numerous expeditions, packages, tour operators, 1 day excursion to Hautes-Gorges-de-la-Rivière-Malbaie Provincial Park (agreement with SÉPAQ).

2005

Establishment of a point of service on the beach at Saint-Siméon.

2006

Winter kayak excursion. Rental of facilities at Saint-Irénée, excursions from Petite-Rivière-Saint-François

2007

Merger and acquisition of l'Air du Large in Baie-Saint-Paul, 80 kayaks. Rivière du Gouffre descent, canyoning, paragliding, bike rentals, kites.

2009

Upgrading of Baie-Saint-Paul facilities, 15 employees, 80 kayaks with 135 person seating capacity.

2010

10th anniversary: services are centralized under one name: Katabatik - Aventure dans Charlevoix. Start of sea kayak excursions from L'Isle-aux-Coudres.

2011

Construction of a service centre at the Baie-des-Rochers wharf, purchase of comfortable hybrid bikes, design and launch of the new Web site.

2012

Partnership with the Hôtel La Ferme and the tourist train of Charlevoix, launch of the website mobile version, development of canyoning, growth of the river product.

2013

Achievement of phase 1 of the investment project for the modernization, diversification and extension of our services via the EPRT.

2014

Achievement of phase 2 of the investment project via the EPRT. $130,000 in investments over 2 years. Website updated in responsive mode and booking module revised.

2015

Addition of a second 24-passenger bus to replace the 15-passenger bus.

2016

Partnership with the Camping du Gouffre (new departures). Development of driver, guide and customer service training.

2017

Installation of kilometre markers and development of communication tools for river product. Development of coordination training. Planning of the St-Laurent Pavilion with the city of Baie-St-Paul.